14 Day Highlights of Rajasthan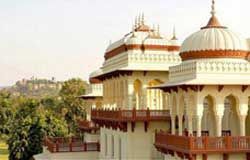 In this tiny slice of India, a wealth of history, culture and color surrounds you. Immerse yourself in the iconic monuments of Delhi and Agra, and the imposing grandeur of Rajasthan's hilltop forts. Spend an unforgettable night in a deluxe tent in the vast Thar Desert and explore a lively Jodhpur street bazaar. Spot wildlife in rugged Ranthambore National Park and savor the region's sumptuous cuisine.
12 nights hotel accommodation
1
...

Travel2 was created by the partnership of two renowned travel brands: Newmans Vacations and ATS Tours. Combined with Islands in the Sun, our sister company specializing in romance travel, we bring more than 200 years of experience in designing customized travel itineraries to Australia, New Zealand, the South Pacific Islands and Asia.
We understand that no two travelers are alike so we offer endless travel choices for first-time visitors and unique, "off-the-beaten-path" itineraries
...